Help FAQs
The pdf version of How to reset your password in 8 easy steps includes screen snapshots.
1. Click on the Login button which is in the top right-hand corner.
2. The Member Login screen will be displayed. Click on the phrase Forgot Your Password? which is located towards the bottom of the screen.
3. The Member Login screen will change to display Reset My Password. Enter your Username and Email. Click on the RESET PASSWORD button.
4. The Member Login screen will change to display a Success message and an email will be sent to the email address. This will occur if you have entered the username and email in step 3 that matches your account.
If the Username and/or Email are incorrect you will receive a Warning message. Return to step 3 and try again.
5. Once you have received the reset password email, click on the underlined phrase follow this unique link.
6. The Member Login screen will display Please enter a new password. Enter your new password in the New Password and Confirm Password fields. Click on the UPDATE PASSWORD button.
7. The Member Login screen will change to display a Success message. Your can now login with your Username and the Password you have just set.
8. You will receive an email notifying you that your account has been changed.
The pdf version of How to update your membership details in 8 easy steps includes screen snapshots.
1. After you have logged in, click on Your Name: Admin which is to the left of the Logout button.
2. The Member Login screen will display with seven tabs. Click on the My Memberships tab. Under the heading Current Memberships click on the VIEW MEMBERSHIP DETAILS button for the first membership. If you belong to a SIG, SUG or MSG these memberships will appear underneath your main membership.
3. A popup screen will appear that contains your membership details.
4. Scroll to the end of this popup screen and click on the EDIT button which is in the bottom right-hand corner.
5. Modify any fields that need updating. Compulsory fields are marked with a red asterisk *. You can also change your username and/or password while editing.
6. After all fields have been completed, click on the SAVE button which is in the bottom right-hand corner. An error message will be displayed next to a field if it is not completed correctly when you click on the SAVE button.
7. Close the popup screen by clicking on the x in the top right-hand corner or click on the CLOSE button which is in the bottom right-hand corner.
8. Congratulations, you have successfully updated your membership details
Family History ACT (FHACT) has Voluntary Workers Insurance to cover members wherever they are volunteering. We do not know who of our members may volunteer, when they may volunteer or what type of activity they may volunteer for.
To enable us to have insurance cover for volunteers of varying ages, we need to ask for the birth date of all our members. These dates are aggregated and allows us to ensure that we have the appropriate Voluntary Workers Insurance policy.
FHACT has a privacy policy that covers our use of members personal information. We are not going to check that you enter the correct date of birth. As we rely on the information provided to us, there may be unintended consequences if it is incorrect.
We have previously asked for age brackets but this approach had a very high administration overhead. It required every member every year to complete the whole membership form plus the membership team had to chase up too many people to complete a membership form every year. To make life less complex for everyone, Family History ACT has taken the approach to ask for date of birth so it is entered once only and gives more time for everyone to research their family history.
Clicking on 'Your Name: Admin' will open the Member Login page. There are 7 tabs that contain information about you and your interactions with Family History ACT
My Account - review and edit your basic details, Marketing Preferences can be muted or unmuted (only applies to marketing emails sent via an email campaign) and My Documents is a list are document categories you can access
My Memberships - Account, Current Memberships and Past Payments. The account details can be edited by clicking on the edit icon next to the field you wish to update.

Within the section "Current Memberships" you can view and edit each of your memberships via the "View Membership Details" button. Press the EDIT button located in the bottom right hand corner of the popup screen, modify your membership details as required and then press the SAVE button. The RENEW button will appear to the right of the "View Membership Details" button when your membership is due for renewal.
My Payments - you can choose to have a stored credit card payment method if you want to, that will be used for any credit card payments you make via the Member Jungle Payment Gateway. Note: The Member Jungle system does not store any credit card details however instead stores a token that is sent through the payment gateway, ensuring your payment details are always secure.
My Events - shows your completed and upcoming events.
My Orders - not currently used as we do not have catalogue orders.
My Store - any orders you have made from the online store.
My Listings - any listings you have in the Member Directory
The pdf version of How to join a group in 8 easy steps includes screen snapshots.
Once you have logged in, you can now join any of the following groups all for FREE (except TMG).
Special Interest Groups (SIGs):
Australia, Convict, Digital Asset Management, DNA, English & Welsh, Heraldry, Scottish, Irish, Writers.
Software Support Groups (SUGs):
Family Tree Maker (FTM), Legacy, Reunion and Mac, The Master Genealogist (TMG Down Under).
Member Support Groups (MSGs):
Coffee & Chat, Pauline's Parlour.
1. Click on the Membership Tab at the top of the Homepage and select the Join or Renew option.
2. On the Join or Renew page you will be able to see what groups you are already a member of. This page also includes your paid membership level.
3. To join a group that you are not already a member of scroll down to Select a Membership Level dropdown box. By default it will show the first item in the list.
4. Click on the down arrow on the right of the box to see all other options. This list also includes all other levels of paid memberships. Toward the bottom of the list are the names of the SIGs, SUGs and MSGs which you have not already joined.
5. Use the slide bar on the righthand side to scroll down to find and select the group that you wish to join. Your choice should now appear in the Select a Membership Level window
6. Click REGISTER. Your membership information will display and can be modified as required. Check that it is correct then click SUBMIT at the bottom of the page.
7. A Signup window will appear, and you can optionally add some other products to your subscription if you wish. The items are only ordered if you click the +Add button. Click CHECKOUT to complete your signup for the group membership.
8. You will receive an automatic email confirming your request and membership to the group will be activated by the convenor. Repeat this process for any other groups you may wish to join.
The captcha will appear if the system suspects that the person is a bot. Generally the system will use silent captcha but if there is any suspicions it will do the manual checks by displaying captcha.
If you are a current member you can only renew your membership within 60 days of your expiry date. You will receive renewal reminders (until you renew) 60 days, 30 days and 7 days before your expiry date plus 7 days and 28 days after your expiry date. An expired member can renew their membership at any time.
When your expiry date is within 60 days you will see a button display in the membership area and on your mobile app to Renew your Membership.
Renewing via the Website
After you have logged in, go to your member administration area and on the My Memberships tab, you will see a

button displayed under the membership card.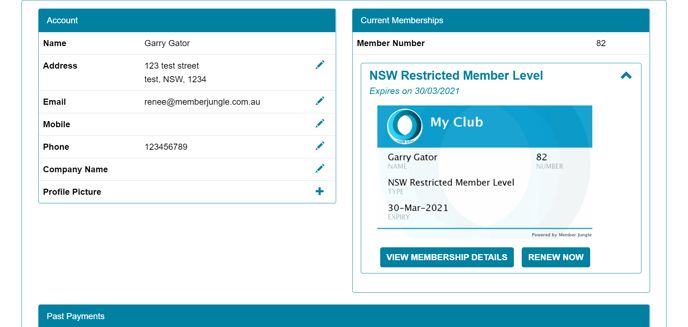 Clicking on this button will open a pop up with the membership form. Here you can update your form details, select which membership product you would like for the next membership term (only products in the same membership level will be available. If you wish to renew to another membership level, you will need to sign up to that level) and then submit your membership renewal application.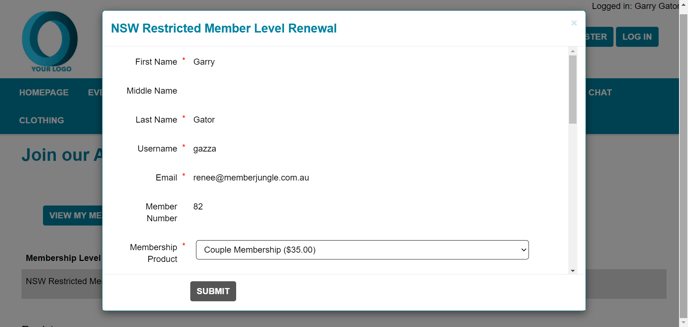 on clicking submit, you will be offered the opportunity to purchase a copy of FHB&B and/or donate to the Library Gift Fund (donates over $2 are tax deductible), and then taken to select your preferred payment option, and through the checkout process.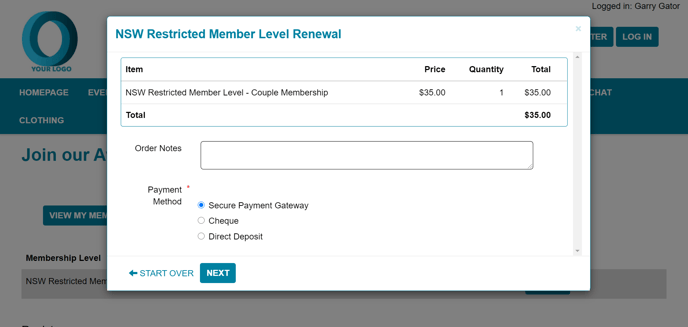 Depending on the membership level and payment method you may automatically get the next membership term added to your membership upon payment or you may see a message advising that your membership will now require administrator approval.

A member that requires approval goes into a pending status. You will receive an email to advise you of this.

If you are auto approved or an administrator has approved your pending renewal registration, you will be sent an email for "Renewal Success".
Renewing Via The Mobile App
Renewing via the mobile app is the same process to renewing on the website.
When you log into the mobile app, you will see a "Renew Today" reminder at the top of the dashboard.
Clicking on the membership button below this reminder will take you directly to the membership form to renew your membership.
Alternatively, you can select the "My Account" option from the dashboard. Scrolling to the bottom of the account information will show the Membership expiry dates. Any memberships that are coming up for Renewal or are expired will have a button to renew.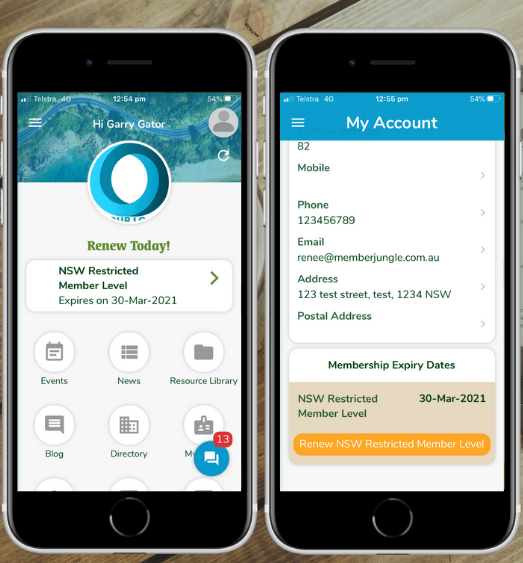 You will be taken to the membership form to update your details and select membership products within that level for renewal.
On clicking submit, the rest of the process is the same as on the website.
Membership Invoices and Membership Cards
You will be emailed an invoice and your membership card with the welcome email (upon approval of membership).
You will also have access to view and download all of your past membership invoices since 26th July 2021 in your member administration area.
Your membership card is available on both the mobile app and in your member administration area.
Family History ACT has its own library located in Cook.
Member Jungle has its own terminology. One of the icons in the mobile app is called a library which is a collection of the various documents that are avaiable on the website and on the mobile app.
FHACT is a vibrant and active community with a busy schedule of activities. A visitor to the website, member or not, should be able to see the full range of these activities. We want them to see how much is going on and easily discover activities of interest to them.
Most FHACT activities are only for members so each of these has an "Information" event that a website visitor can see without logging in. These "Information" events do not accept registrations so each member only activity also has a "Registration" event to accept registrations. The "Registration" event is only accessible to members who are logged in.
FHACT does also have public activities, including the Monthly meetings. These activities only have a "Registration" event that is visible to public visitors and members who are logged in.
The event list and calendar pages are filtered to only display "Information" or "Register" events as appropriate. On other pages the output can't be filtered that way and, when you are logged in, you will see both.
Some activities are labelled "Registration" instead of "Register". This is for cosmetic alignment when the event is displayed on the home page.
Why are registrations necessary?
You must register to attend any FHACT activity in person or using Zoom. Registration for in person attendance is required because COVID restrictions limit the number of people in the meeting space. Registration for Zoom attendance is required for access to the Zoom registration link which must then be used to register with Zoom for the meeting.
Why do events work this way?
FHACT selected Member Jungle as its membership system. The system integrates membership, event management, online store, payments and many other features in a way that provides great benefit to the organisation. With all the benefits come a few features that we need to work around. Having "Information" and "Register" events is one of these workarounds, required because of the way events work in the system.
Emails from FHACT will often have donotreply@memberjungle.com.au in the from address.
You CAN reply to these emails from the website which say "donotreply".
If you want to reply, click Reply and look at the email address which it is being sent to. For example, in each of the above cases:
Both these "reply to" emails will go to a group, or person in charge of that email address.
This email goes to the "site administrator" and into a "general bucket" of emails that may not be addressed in a timely manner.
If the "reply to" is general, it would be better to try to contact a specific group or person using our contact us pages on the website.
Contact us: https://www.familyhistoryact.org.au/contact
Specific FHACT Contacts: https://www.familyhistoryact.org.au/index.cfm?display=1314532
So, try to reply but check the email address it will go to before deciding to send it.
Note for group convenors.
When you send an email to members or people registered for an event you can change the "From Name" and the "From Address". The "From Name" appears in the email as in the examples above.
The "From Address" in your email will be used as the "reply to address" in the receiver's email.
You have to register twice for a Zoom meeting.
1. Register for an event (purchase a ticket) on the website.

To attend using Zoom select the Zoom ticket.

2. You will be sent a confirmation email from the website which includes a link to register for the Zoom meeting. Also, you will now be able to see the Zoom registration link on the web page for that event.

3. Open the Zoom link to REGISTER with Zoom for the meeting.

4. A confirmation window will be displayed with a new link to attend the Zoom meeting.

This link will also be included in a confirmation email from Zoom.
Both the confirmation window and the email have a link that can be used to automatically add the Zoom meeting and attendance link in your calendar. That is convenient as you can easily find the link to attend the meeting.
5. To attend the meeting, open the Zoom attendance link from step 4.
6. In most cases you will go straight into the meeting, but in some cases you may be held in a waiting room until the meeting organiser allows you to join the meeting.
Why do I have to register twice?
Event management for FHACT has been streamlined by the new website. That has generally improved the experience for both members and volunteers, and has reduce the workload for volunteers. Having to register twice for a Zoom meeting is an inconvenience but it is justified by the other benefits of the system.
FHACT has chosen to implement the two-stage registration process for better security. Registering with the website allows tighter control of the Zoom registration link. Registering separately with Zoom further improves control of Zoom attendance and reduces the possibility Zoom bombing and other intrusive disruption.
It is easy to forget the early concerns about Zoom security because it is now generally well managed. The two-step process is part of that ongoing management.
Member Jungle produces a JPG file when you download your membership card. If you wish to print a wallet size paper version, please follow these instructions.
Open the JPG file and print with the following parameters.
After printing the A4 sheet of paper, cut out the membership card.